From the President's Desk – 2022
Asalamualaikum and Salam Sejahtera,
I am honoured to be elected President of the College of Radiology, Academy of Medicine of Malaysia, for the second term of 2022-2024. The College of Radiology or CoR is a non-profit professional body that aims to serve patients and society by maximising the value of our radiology fraternity consisting of Clinical Radiologists, Clinical Oncologists and Nuclear Medicine Physicist.
As the world evolves, our fraternity faces several challenges in delivering care to patients and society. Technological advancements, increasing demands and workloads, challenges in the clinical reimbursement landscape, radiation safety and quality assurance are some of the many challenges ahead in Radiology.  We need to find ways to address these issues and embrace practices that maintain or improve effectiveness and efficiency in the healthcare systems. One of the ways is to have a synergistic working environment through education and continuous dialogues.
The CoR plans to sustain the engagements of our members via continuous medical education workshops led by our Special Interest Groups. We also aim to conduct larger conferences catering to all groups contributing to medical imaging. In addition, through constant updates of our best practices, we can deliver our best to the public in Malaysia.
The world is now just a connection or a screen away. So, we have to be prepared for the shift of medical care from national to global. Here, the CoR plans to play a more prominent role regionally and internationally by enhancing and encouraging our collaborations with other societies such as AAR, AOSR, RSNA, RCR and ESR.
I am committed to preparing our CoR members for the change in the healthcare paradigm. However, at the heart of it all, we must always remember that the notion of the College of Radiology is to serve the patients and society with the highest standards of patient care.
Sincerely,
Prof Dr Norlisah Mohd Ramli
President 2022-2025
Date: June 2022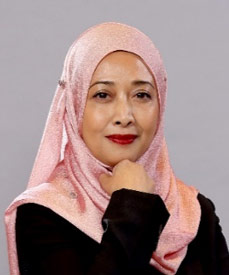 Prof Dr Norlisah Mohd Ramli
President of College of Radiology