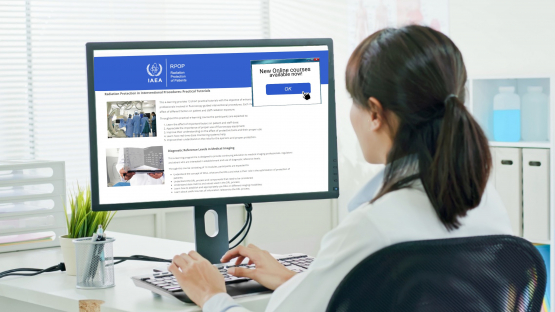 Over 4300 users from more than 100 countries have used the three new IAEA interactive e-learning modules released this year on diagnostic reference levels in medical imaging, radiation protection in interventional procedures and radiation protection in dental radiology. These courses aim to help healthcare professionals strengthen radiation protection in medical procedures using ionizing radiation.
"Around the globe, there are over seven million healthcare workers involved in radiological procedures whose radiation protection knowledge and practical skills are critical to ensure quality and safety," said Jenia Vassileva, IAEA Radiation Protection Specialist. "The new online courses will help build these competences. The three new topical subjects were selected as there are limited learning resources for medical practitioners in these specific fields."
The material is in line with the IAEA International Basic Safety Standards, Safety Guide on Radiation Protection and Safety in Medical Uses of Ionizing Radiation and good practice guidance, and can be also used by the regulators and inspectors who want to upgrade their knowledge. The diagnostic reference levels course, for example, addresses the challenges of implementing this methodology, which is often a requirement of national regulations. However, users do not always have the step-by-step information on the exact process to establish and utilize this important tool for optimization of patient radiation protection.
Diagnostic reference levels in medical imaging
Diagnostic reference levels are used in medical imaging to indicate whether, in routine conditions, the dose to the patient or the activity of a radiopharmaceutical administered in a specified radiological procedure for medical imaging may be unusually high or unusually low for that procedure.
This e-learning focuses on providing continuing education to medical imaging professionals, regulators and others interested in establishing and using diagnostic reference levels in diagnostic radiology, interventional procedures, diagnostic nuclear medicine and dental radiology.
The course includes 13 modules, the first four of which describe the concept of diagnostic reference levels and the resources needed to establish them such as availability of a dose assessment team at every facility and coordination at the country level. The subsequent nine modules detail the methodology for setting diagnostic reference levels in different imaging modalities such as radiography, fluoroscopy, computed tomography, mammography, dental radiology, diagnostic nuclear medicine, hybrid imaging, and one specific module is dedicated to the application of this tool in paediatric imaging.
Radiation protection in interventional procedures
The new course on radiation protection in interventional radiology consists of 13 short practical tutorials with interactive videos that explain and demonstrate the effect of different factors on patient and staff radiation exposure during fluoroscopy-guided interventional procedures. These procedures are performed by using X-ray beams in minimally invasive procedures that are used as an alternative to conventional surgery, and result in reduced patient morbidity and mortality.  Monitoring and controlling the radiation dose during such a procedure and using dose information for continuous benefit-risk analysis is essential.
This e-learning is available in English and  in Russian.
"The availability of visual teaching materials in Russian will help more Russian-speaking health professionals to make the best use of the information about practical radiation protection approaches, which is crucial to the work in interventional radiology," said Svetlana Sarycheva, Senior Scientist at the Russian Institute of Radiation Hygiene.
Radiation protection in dental radiology
As different X-ray imaging techniques are used extensively in dentistry to diagnose, plan treatment and monitor treatment results, the series of nine lectures combined in the radiation protection in dental radiology course will help participants improve their understanding of radiation protection principles and practical approaches in dentistry to build specific knowledge on the appropriate use of imaging in different dental clinical contexts.
"This course is very well oriented to daily dental practice, helping dental professionals understand how to properly choose the right X-ray examination and to optimally use X-ray equipment features to keep exposure of the patient and dental staff as low as diagnostically acceptable," said Melina Mondelli from the Uruguay  National Regulatory Authority in Radiation Protection adding that "as a regulator, the course also increased my knowledge on how to help practitioners improve safety in dental radiology."
The course, available in English and Spanish, has been very popular, accessed by 3400 users in Spanish alone. "Having it available in Spanish allowed us to recommend it to every dental practitioner using X-ray imaging in our country," added Mondelli.
Online courses are useful tools to enhance the radiation protection of patients and are updated annually. In addition to the three new courses, the IAEA offers five other courses in related topical areas such as Radiation Dose Management in Computed Tomography and Safety and Quality in Radiotherapy, available in English, Spanish and Russian. More than 20 000 health professionals have already taken advantage of these online learning opportunities and over 9000 certificates of completion have been issued. The online courses are available for self-learning with and without certification and all modules are offered for free download for offline use as well.
All courses are freely accessible on the IAEA Open LMS and can be accessed by registering via the user's Nucleus account. To be notified of new modules and translations, sign up for the IAEA Radiation Protection of Patients e-learning Newsletter.